Health Boosting Minerals, Health Protecting Water Coolers
Great Water From The Most Hygienic Coolers At Competitive Rental & Supply Prices
It's About Nutritious Water, Not Just The Office Water Coolers!
Water is so freely abundant in our lives, it's easy to see why some people take it for granted. But to Waterboy, water is a very precious thing. And because we drink water for our health and well being, Waterboy believe it should be treated with the utmost respect it deserves.
Scientists believe that natural spring water is really beneficial to human life because the minerals it contains are more readily absorbed by our bodies when compared with the absorption of minerals from food. You see, natural spring water is full of minerals that our bodies need and drinking it is a fantastic way to get the fluid we need for good hydration and essential nutrients at the same time.
Researchers also claim that natural spring water helps prevent nutrition deficiencies and breaks waste products down to rid toxins from the body to make our immune systems more effective.
That is why Waterboy treat the water you drink with the utmost care.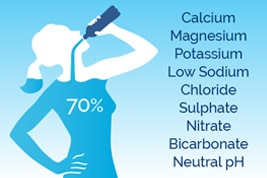 Unsurpassed Purity & Hygiene Standards In Office Water Cooler Rental & Hire
Waterboy's exacting standards ensure that its water is subjected to a very strict hygiene and quality regime before it is released for consumption by the public.
Our spring water is fully accredited. After triple filtration at source, it is subjected to an additional triple filtration process in house to deliver a finished water of 0.2 microns absolute to ensure the highest water quality and integrity.
Every single batch is sampled and then tested for microbiological contamination in our own lab and independently by Public Health England who publish a report covering every batch of water we supply.
A Dirty Office Water Cooler Can Be A Health Hazard!
Have you ever seen someone servicing an office water cooler in your workplace? If so, it's quite likely that dispensing equipment gets a cursory disinfectant spray and wipe down of the external parts of a cooler like taps and drip trays, taking 10 minutes at the most to complete!
And did you ever wonder about the cleanliness of the internal parts of an office water cooler that come into contact with water after it leaves the machine and enters your cup?
Waterboy replace its office water coolers at clients' premises every 3 months and every unit returned is completely overhauled. The water cooler is stripped down to its component parts which are "pre-cleaned", visually inspected and replaced as required. Then to properly clean and sanitise a water cooler, it takes Waterboy around 40 minutes using specially designed processes, machines and scrupulous inspections.
Then after another 3 months has passed, Waterboy religiously exchange a client's cooler with a pristine 100% hygienic, service reliable replacement.
Nutritious Minerals & Health Protecting Water Coolers Lancashire & The North West Deserve
Waterboy supply office water coolers clients love and also cover all major North West and Lancashire towns and cities,
When it comes to the one thing that is so vital to your body's lifeforce, don't you and your staff deserve the healthiest liquid refreshment you can provide?
If you're looking at water cooler rental options, please take a look around this site and see the difference Waterboy brings to the humble but important office water coolers in your business!
Water Cooler Supplier Lancashire & North West | Water Cooler Supplier Manchester | Water Cooler Supplier Greater Manchester