Health Protecting Hygiene, Health Protecting Cleansing
It takes between 30 to 40 minutes to clean a cooler properly using specially designed equipment and machinery.
So instead of a cursory spray & wipe, Waterboy religiously exchange your cooler with a pristine 100% hygienic, service reliable replacement unit every 3 months.
Each returning unit is then serviced at Waterboy HQ. Units are completely stripped down, subjected to a visual component pre-clean and inspection.
Dip tanks are then used for special cleaning processes eg iron staining and mineral scale removal, unserviceable components are replaced with new ones, the internal reservoir is pressure tested and finally all components are subjected a unique bespoke ozone power cleaning process in a patented machine which cleans all the nooks and crannies a brush can't reach.
You Wouldn't Put Nice Meal On A Dirty Plate!
Cleaning Coolers The Waterboy Way
Do you have an inefficient cooler which is constantly switching on to dissipate heat away? Unless your service operative can check this you'll never know!
Waterboy check and service things like cooler refrigerant and condenser operation to ensure efficient cooling and minimal consumption of electricity and also ensure that your cooler won't freeze up in operation either. Something you don't get from other suppliers when your machine is given a quick once over.
And you don't have to worry about electrical safety PAT testing either because each machine is retested every time it is serviced!
Cool water when you need it most provided with minimal energy consumption.

Stage 4 – Removal Of Ferrous Oxide Staining, Calcium & Bicarbonate Deposits
Components are then transferred to the first of two treatment tanks.
The first treatment is utilises a secret Waterboy treatment solution to remove brown staining caused by ferrous oxide deposits in water. This staining is caused by precipitation of iron and is most prevalent in coolers which have both hot and cold water functionality.
Near boiling water has a tendency to precipitate everything out of the water.
A second tank is used to remove even minute traces of calcium or bicarbonate deposits.

Stage 5 – CNC High Pressure Dual Sterilisation Chamber Treatment
Because it is physically impossible to clean and sterilise hygiene critical cooler components manually, we decided to invest in ground breaking technology probably the only type of its kind in our industry!
Consequently our CNC sterilisation chamber is a fine example of bespoke engineering designed by rigorous empirical computer modelling to ensure that the sterilisation jet sprays reach every hygiene critical components of the cooler ie reservoir, body, taps and baffle get thoroughly washed and sanitised.
Equally rigorous prototype testing using dye trials was undertaken to ensure that water from 30 special high pressure jets (which cost $1500 apiece!) reached every nook and cranny of each single component.
The chamber has been designed to accept 9 sets of components equivalent to the quantity on a standard pallet.
The 30 sterilisation spray jets each operating at 120 psi work through a complex cleansing programme with their powerful columnular spray cleaning and sterilising every internal orifice and aperture on the top and side of the reservoir, baffle, water guard and through the taps as well. The components are then subject to a further treatment when the pressurised cabinet is filled with ozone to provide a final sterilisation procedure.
Ozone Treatment
Ozone is not a chemical agent but an unstable atom of oxygen and is a very good oxidising agent. It will kill any residual contamination or living bacteria present. And because it's not chemically based when it decomposes after use it reverts back to oxygen and water and is a very safe method of final sterilisation.
With ozone there is no question of harmful chemical residues remaining in the cooler components which could harm humans.
There is no question of chemical carry over unlike processes which use rinsing where residues can be left in the cooler which could potentially kill someone.

Stage 6 – Reassembly & Pressure Testing
The final stage of the cooler cleaning process consists of reassembly and pressure testing.
Reassembly is a straightforward process. Pressure testing is a vital procedure to ensure that the cooler units is sealed properly and any cracks or fissures undetectable by the human eye are detected before the unit goes back into service.
This ensures that our coolers will provide reliable leak free service without the inconvenience, loss of use or worse still water damage!
The unit is returned to our stock in a pristine "like new" condition.
Pristine Bottles For Healthy Water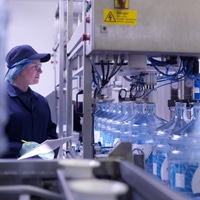 Some brands rely on contract fillers and subcontract work to 3rd parties who run to their own standards.
However, Waterboy has invested in its own special bottling plant because we weren't satisfied with quality control available using industry norm techniques.
The bottling plant is fully automatic and incorporates cap removal, bottle pressure testing for leak detection and does not rely on any human contact in the subsequent washing, filling, capping and stillage bottle racking process.
Bottles are not touched by human hands until the delivery driver offloads it during delivery!
Leaks from water bottles or the cooler itself are at best an irritant at worst an eyesore totally out of keeping with a safe, professional environment your business deserves.
Waterboy eradicate this problem by pressure testing a cooler's internal reservoir vessel, changing worn taps, pressure testing water bottles before filling and using the most expensive bottle caps money can buy.
Our plant is fully automated which enables us to:
ensure no human intervention or potential error puts the sterilisation process at risk
operative health & safety is optimised with no heavy manual lifting is used in the process
maximise quality because we spend our time monitoring quality rather than managing the manual bottle filling procedure
Bottling The Waterboy Way

Stage 1 – Cleaning Water Treatment
We ensure that our cleaning water is 100% safe and contaminant free!
This process include:
triple filtering water down to 0.2 microns which is beyond what most other people do
ultraviolet and ozone treatments ensure that there are no contaminants or living organisms present – even a "super bug" could not survive!

Stage 2 – Bottle Inspection & Cap Removal
All bottles are subjected to an initial manual external inspection for label presentation, surface marking and scratches etc. Any bottles which fail to meet our high presentation standards are rejected.
Bottles enter the first automated process during which its cap is removed automatically. These caps are recovered and recycled back to their manufacturer. This eliminates the risk of human error and health and safety issues which can arise from their manual removal eg plastic cuts.
If the bottle cap is not successfully removed from the bottle say due to a fault, the machine rejects the bottle to stop jamming.

Stage 3 – Pressure Testing
Next stage is pressure testing at 25 psi to make sure there are no leaks in the bottle.
This cannot be done by visual inspection because the human eye cannot detect the tiniest of fissures, inclusions, holes and cracks.
And because our test is done for a longer period and at a higher pressure than most other suppliers, even infinitesimally minute cracks are detected and the bottle rejected.
This helps us monitor the quality of our bottle supplier and equally importantly safeguard our clients from the inconvenience in service arising from a leaking bottle!

Stage 9 – Bottle Stillage Filling
Much of the industry will use any old rack which is rusting away for all the world to see!
But Waterboy use a 24 bottle galvanised stillage with stainless steel retaining collars.
This combination ensures that our drivers don't have to climb on the side of their delivery vehicle to retrieve a bottle for delivery to a client.
Some water companies run water bottles in their fleet till they drop, often placing labels over labels, and ignoring extremely unsightly scuffed, marked or badly scratched bottles.
Our standards are so high that we scrap bottles other companies would still use.
We refuse to compromise our consistency of presentation and ergonomics buy mixing different bottle sizes with differing handle locations and shapes in our fleet.
Our bottles do not touch the floor from the point of filling till they are placed on your cooler. Bespoke stillage racks specially designed for our vehicles mean clean bottles stay clean and don't roll around the vehicle floor in transit, get scuffed, dirty or punctured.
We've even thought about ergonomic design with the maximum rack height set at a level no taller than one man could carry at comfortable shoulder height level.
Waterboy's standards of presentation also extend to an immaculately clean delivery fleet, courteous, obliging, well presented delivery drivers in corporate uniform devoid of tattoos, clean shaven and definitely no ear rings!
Delivery Logistics The Waterboy Way

Stage 1 – Bottle Storage
Even the use of the stainless steel retaining collar is an example of attention to detail.
That's because along with our galvanised stillage it ensures the appearance of our racking is clean and presentable outside your premises and that our bottles don't move in transit and suffer from scratching or marking.
What's more, unlike some bottled water suppliers, all Waterboy filled bottles awaiting despatch are stored inside our premises so they are not exposed to the elements!

Stage 2 – Loading Vehicles
A 32 bottle rack used by some other suppliers brings an added health and safety risk arising from the need to climb up onto a vehicle then twist, turn and manually lowering a bottle down to ground level.
Our racking, not only makes life safer for our drivers but importantly ensures that your bottle of water receives the careful handling required to guarantee its arrival at your premises in pristine condition!

Stage 3 – Delivery
We've driven all the way to South Wales at a moment's notice to solve a problem and would never say we "don't do stairs" if your lift is out of order!
However many flights there are we'll climb them to bring you the best value, healthiest drinking water money can buy!
And when our day is over, we clean every vehicle from "top to bottom" ready for the next day's delivery runs.