Water Coolers Altrincham & Stockport
Health Boosting Mineral Water, Health Protecting Water Coolers
Great Water From The Most Hygienic Water Coolers At Competitive Rental & Supply Prices
Water Coolers  Altrincham & Stockport Companies Trust!     
Clean water is so freely available in our lives, it is easy to notice the reason many people take it and the watercooler in their Altrincham and Stockport businesses as a given. Yet to Waterboy Ltd, water is a very priceless issue. And since folks consume water for our healthy well being, Waterboy believe it should be treated with the maximum respect it is worthy of.

Scientists conclude that 100% natural mineral water is actually beneficial to humans due to the fact that the minerals contained in it are more widely taken in by our bodies if compared with the absorption of nutrients from meals. You see, organic mineral water is full of minerals that people's bodies really need and consuming it is a fantastic way to get the H2O we need to have for desirable hydration and important nutrition.
Scientists likewise claim that organic spring drinking water really helps to protect against health and nutrition deficiencies and also breaks waste products down to remove toxic substances from the physical body to make our immune systems even more powerful.

So that's the reason why the spring drinking water as well as the workplace water coolers you rent from Waterboy Limited are really treated with the maximum possible care!   
Refreshing Water And Water Coolers Stockport & Altrincham Companies Rely On!
The demanding sanitation and quality standards which Waterboy Ltd adhere to, which ensures that its water is thoroughly scrutinised well before delivery and client's consumption.   
Waterboy all-natural mineral water arrives with comprehensive certification. It undergoes 2 triple filtration processes. Once at the source then afterwards another in line triple filter process that delivers the highest final drinking water quality to 0.2 "microns absolute". Each and every production batch of water is then tested in our lab for microbial contamination and independently by Public Health United Kingdom who at that point produce reports covering each and every batch we supply to our clients.
Did You Know That Mucky Water Coolers Are Not Hygienic?
Have you ever observed somebody cleaning a workplace water cooler around your office environment? If so, it's fairly likely that the water cooler gets a casual disinfectant aerosol spray and sponge down of the exterior components of a cooler like water taps and drip trays, utilising 10 mins at the very most to finish.      
Has anyone ever thought about how hygienic the interior components of the water cooler are in your work place? These items carry the mineral drinking water from the water cooler to your drinking glass or mug!         
Waterboy switch out its business water coolers at patrons' premises after every three months and every water cooler returned to its processing plant is totally overhauled. The cooler is dismantled to its individual component parts which are subjected to a pre-clean, inspected and changed as required.
At that point in order to properly clean and conduct sanitisation on an office water dispenser, it then takes Waterboy approximately forty minutes utilising specially designed systems, machinery and also thorough examinations.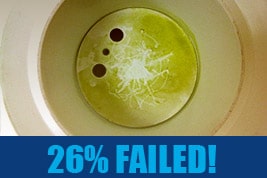 The Economical And Hygienic Water Coolers Altrincham and Stockport Customers Deserve!
Waterboy Ltd have been serving exceptional spring and outstanding water coolers Stockport and Altrincham clients patrons deserve for many years.      
Don't you as well as your business's staff deserve the most nourishing, healthy spring drinking water from the cleanest coolers in the United Kingdom?  
If you are looking out for a great hire arrangement on the workplace water coolers Altrincham and Stockport patrons have come to value, feel free to check out this website and you'll quickly see just why it is worth making an enquiry and placing your cooler order with us!