Water Coolers St Helens & Warrington
Health Boosting Mineral Water, Health Protecting Water Coolers
Great Water From The Most Hygienic Water Coolers At Competitive Rental & Supply Prices
The Best Water Coolers St Helens & Warrington Companies Can Rent & Naturally Healthy Water!      
Waterboy never take its drinking water and the water coolers St Helens and Warrington customers are supplied with for granted.
We are very serious about drinking water since it's so vital to our well being and health.
That's why the spring water and business water coolers you receive from Waterboy Ltd are actually treated with the best possible care!
Water Cooler Hire and Rental In Warrington & St Helens
The water we supply ro our Warrington and St Helens customers is independently accredited.
It is subject to 2 triple purification processes. Once at the source and afterwards another in line threefold filtering system activity that delivers the highest possible final mineral water quality to 0.2 microns-absolute 0.2 "microns-absolute".
Every batch of water is then examined in our lab for microbial contamination and separately by Public Health United Kingdom.
A Lot of Office Water Coolers Are Not Hygienic!   
Have you witnessed a workplace water cooler getting maintained? If so, it's likely that all the cooler gets is a cursory sprinkle with an anti-bacterial solution and also a simple rub over around exterior of a water cooler taking at the very most just 10 minutes to complete!
At Waterboy Limited, we supply all of our patrons with a replacement office water cooler every three months.
The moment a returning cooler comes back to our building, it receives a full recondition. The cooler is dissembled and its inside individual parts are subject to a "preclean" and visual investigation immediately after which unsound components are switched out.
After this, we subject every water cooler to our special cleaning and water dispenser sanitisation process making use of uniquely engineered systems, machinery as well as scrupulously thorough examinations. 
The Nutritious Mineral Water Coolers Warrington & St Helens Deserve
Waterboy has been serving outstanding mineral water and outstanding water coolers St Helens and Warrington patrons deserve for many years.
When it concerns water machines for offices, the one thing that's of vital importance to an individual's health and wellbeing, don't you and your business's personnel warrant the most nourishing, nutritious mineral drinking water that you can provide?
If you're shopping for a fantastic leasing arrangement on the workplace water coolers St Helens and Warrington patrons appreciate, please check out this web site and you'll soon see exactly why it is worth generating an enquiry and placing your water cooler order with Waterboy!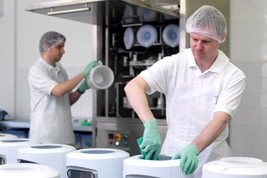 Warrington

Warrington is a town, a borough and a unitary authority that was established by the Romans on the River Mersey at a key crossing junction. In the Middle Ages, Warrington had been established as a "market" town on the river.
Warrington is part of the "ceremonial county", Cheshire.In 1974, the Borough of Warrington was established from the old County Borough of Warrington, parts of the Golborne, Lymm, Runcorn, Whiston and Warrington Rural Districts.
The urbanisation and expansion and of Warrington was driven by the Industrial Revolution and in particular by the creation of vital transport infrastructure by the Manchester Ship Canal. Modern Warrington has seen this develop further with the West Coast Main Railway Line, the Liverpool to Manchester rail service and the M56, M6, and M62 motorways..
Warrington Wolves Rugby League provide the town's leading sporting activity. Historically, the club had been called the "Wires" due to the history of wire manufacturing in Warrington.
St Helens

St Helens is a town in Merseyside and is the administrative hub of the Metropolitan Borough of St Helens. St Helens emerged as a settlement in the 1700s from its roots in Windle. By 1868, Warrington had been incorporated as a municipal borough then subsequently became a county and metropolitan borough.
Warrington grew rapidly in the 18th and 19th century Industrial Revolution period as a significant location for glass production, coal mining, linen and cotton production, copper smelting, brewing and salt supply.
During this time, Warrington hosted many famous brand businesses including Ravenhead, Pilkington, Triplex and United Glass, Greenall's Brewery, Beechams and Daglish Foundry,
In the sporting arena, St Helens boasts St Helens Rugby League Football Club, nicknamed "The Saints" who are a leading club in British Super League. St Helens also has a number of amateur rugby union teams. Liverpool St Helens FC are the most notable rugby union team which claims to be the longest established rugby union club.